Oakland to Shan State: A Culinary Adventure
In 2010, I discovered Burmese food. I fell for its bold flavors, varied textures, its absolute uniqueness, and inventive fusions of South-by-southeast Asian flavors. I loved it so much that I decided to apply for work where I tried it, Burma Superstar in Oakland, California. I was hired. And since then, I've eaten Burmese food almost every day. I am lucky, well-fed, and full of gratitude.
Never was this more true than in August of 2017, when I spent 10 days in Myanmar with the owner of our restaurant, Desmond. Every single meal was amazing. I was blessed with hospitality, generosity, and good company in cities and villages all across central Myanmar and Shan State. I sampled regional cuisines and ingredients completely new to me, so many of them tasty, unforgettable, and unique. Dishes like marrow and shallot fritters, beef braised with palm wine, razor clam salad, and cream of poppy seed soup. Dishes like those that we had at Mingalabar restaurant, Mandalay, where I was blown away by this Bamar feast!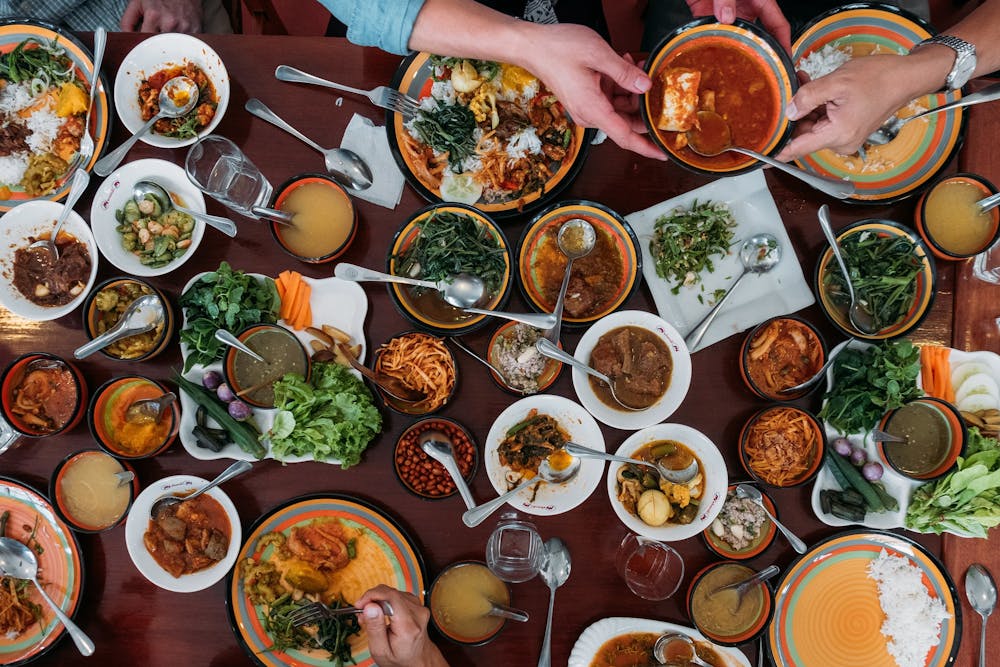 Everything was served at once. Salads of pennywort, tamarind leaf, bamboo shoot, and century egg. Stews of silver catfish, shrimp and okra, pork and mango, egg and cauliflower, and wild boar. Fried bitter melon, pumpkin leaves, lentil soup, pork bone broth, and fresh vegetable crudités with a searing hot chili sauce. The meal ended with coconut-tapioca sweets, candied peanuts, and tea leaf salad - that's right, in Myanmar, tea leaf salad is dessert.
Mandalay is a sprawling city that feels like a village, with bright green fields, orange dirt roads, and throngs of motorcyclists. It was home to the last king of Burma and his palace, surrounded by a moat, still stands at the heart of the city. It was while circling Mandalay Palace that I noticed the incredible diversity of the locals. Some folks looked Thai or Filipino, some Indian or Pakistani, and others even looked Southern European or Middle Eastern. Most apparent was the influence of China's historical migration to the area, in both the people and its cuisine.
Many of these Chinese came from neighboring Yunnan Province, which borders Myanmar's Kachin State to the north. At Black Temple restaurant we feasted on Kachin cuisine: here, an assortment of barbecued and stewed meats (beef, mutton, chicken), pounded dried mushrooms and mountain herbs, fried potato balls, green tomato salad, steamed fish with chilies, jeweled rice and sauteed local vegetables. We ate with our hands and washed it all down with vegetable broth.
Further, into our journey, we visited a rural mountain village called Namhsan, in Shan State, where Burma Superstar works with farmers to grow the tea that goes into our tea leaf salads. Due to civil war, this part of the country is actually off-limits to tourists. It was because of our business in the area that we were granted permission to visit. And our hosts took good care of us, welcoming us with hot tea and this lovely meal of fried chicken, fish stew, pan-fried beef, pounded bamboo shoots, mountain vegetable stew, and most unique: a neem leaf and fungus soup.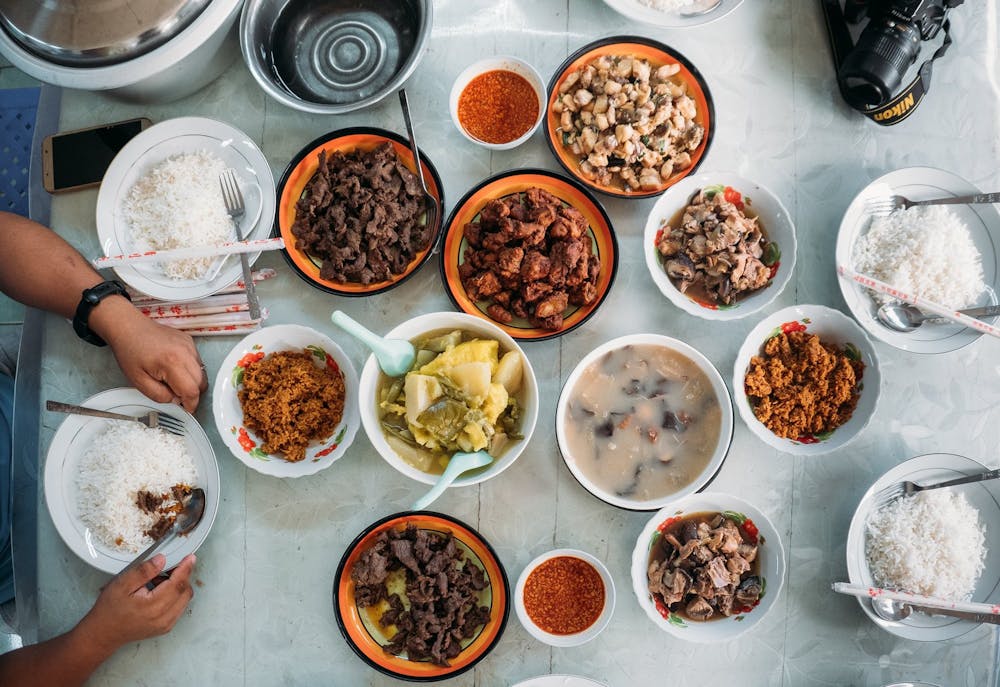 Shan cuisine is in fact famous in Myanmar. The region's restaurants have popped up all over the country, using ingredients like water bamboo, banana buds, quince fruit and leaves, Shan lettuce, and pennywort. Their cuisine is prepared with every protein imaginable in a wide variety of styles that involve pounding, stuffing, steaming, frying, and raw preparations like Shan-style fermented pork "sashimi."
However, no Shan recipe is more popular than Shan khaut swe (literally "Shan noodles"), a rice noodle dish served "wet" in a chicken broth or "dry" with a spicy tomato sauce. It is a simple, satisfying dish, topped with things like ground peanuts, sesame seeds, scallions, minced chicken, and tofu crackers. And while these toppings vary, Shan noodles are always served with pickled Chinese mustard greens, made by drying the leafy greens in the sun and then fermenting them in a salt brine. Their crunch, tartness, and herbaceous flavor lend the dish its uniquely sour taste and a satisfying contrast of textures.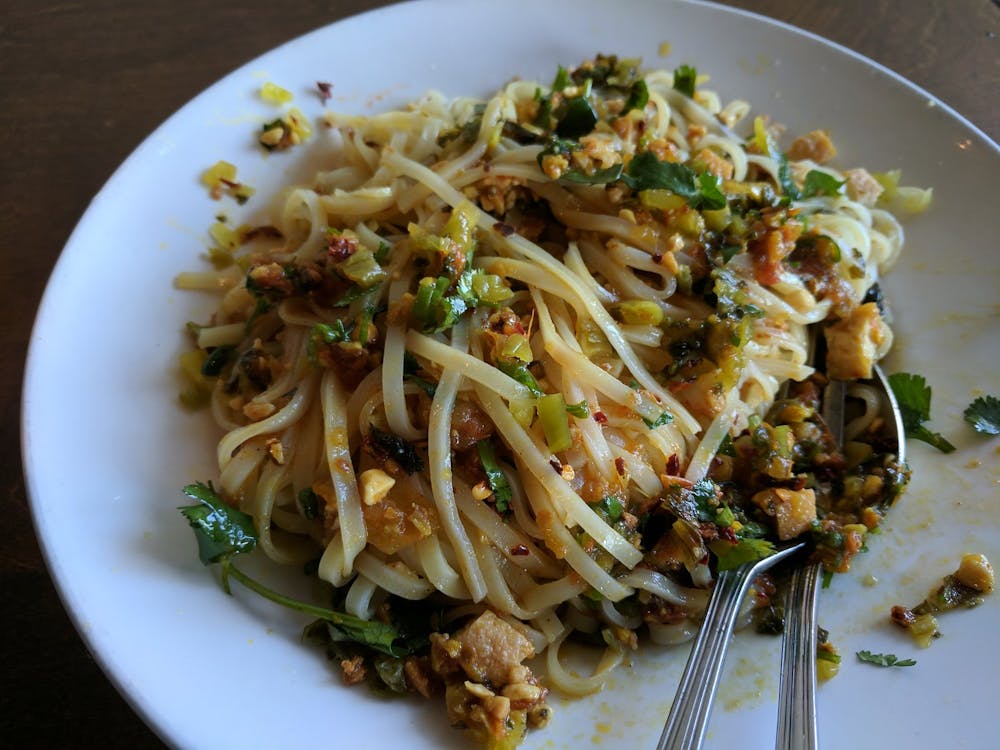 By the time I finished my first bowl of Shan khaut swe, I was already excited to see this dish on our guests' plates at Burma Superstar. I discussed the idea with Desmond, our managers, and our cooks, and we all agreed. We spent seven weeks developing the perfect recipe, meanwhile discovering that mon hin chin also makes a tasty addition to a pork belly stir-fry. Therefore, our chefs are now proud to offer two new dishes: Shan noodles (with your choice of tofu or chicken) and Pork Belly with Mustard Greens. For those of you with adventurous appetites, I invite you to come to visit us and give these dishes a try. Take it as a sign that if you like these dishes, you owe your appetite a visit to Myanmar. There I hope you eat as well as I did!
Jeffrey Gomez
Manager,
Burma Superstar
Oakland, CA