The Secret Ingredient You've Been Missing Out On: Fish Sauce
Chances are, if you've ever eaten any type of Southeast Asian cuisine, you've had fish sauce. If you are unfamiliar with fish sauce, don't let the name throw you off. The truth is, it's not too different from the condiments that we already know and use. This condiment has actually been around for thousands of years, dating all the way back to ancient China and ancient Rome (they called it garum).
Though commonly associated with Southeast Asian cooking, fish sauce is a versatile ingredient that can be used in various ways as an added boost of flavor in dishes. The best part is that fish sauce contains lower sodium than salt, making it a great alternative if you're conscious about sodium intake. A tiny dash imparts depth and deepens the flavors in a way that salt just can't compete with. Its ability to add an umami, earthy, and savory element, makes it a powerful tool in everyday cooking for all types of soups, stews, sauces, stir-frys, and marinades. We want to show you just how versatile fish sauce can be, and what better way to do that than with our very own Burma Love Fish Sauce! We'll be sharing 3 fun recipes to show you how you can use fish sauce at home.
---
If you've ever taken a look through our Amazon #1 Bestseller Burma Superstar Cookbook, you'll notice that many of our recipes call for this magical ingredient. Because fish sauce is such a key ingredient in the dishes at our Burma Superstar and Burma Love restaurants, we decided to make our very own Burma Love Fish Sauce to ensure the highest quality ingredients were being used and that these ingredients were carefully sourced.
What's it made of and how is it made?
Our premium Burma Love Fish Sauce is made simply from only two ingredients- wild-caught anchovies sourced from Vietnam and natural sea salt from the Gulf of Thailand. Unlike many other brands of fish sauce, ours contain no MSG, no preservatives, no artificial coloring, and no added sugars. Just the way it should be! We barrel-age our anchovies for 12 months, and once they are ready, we press them and bottle immediately.
Where to purchase?
Our Burma Love Fish Sauce is available for purchase online on Amazon, as well as at all of our restaurants. If you'd like to try another brand, there are tons of different options to choose from at your local Asian grocery store. Be sure to look for one with simple, quality ingredients!
---
Now, let's get into the recipes!
The first recipe we'll be showing you today is a popular dish at our Burma Love and Superstar restaurants, Chicken with Fresh Mint. This is a Burmese-Chinese version of the herby Thai dish, laap. You can also find this recipe in our cookbook on page 75.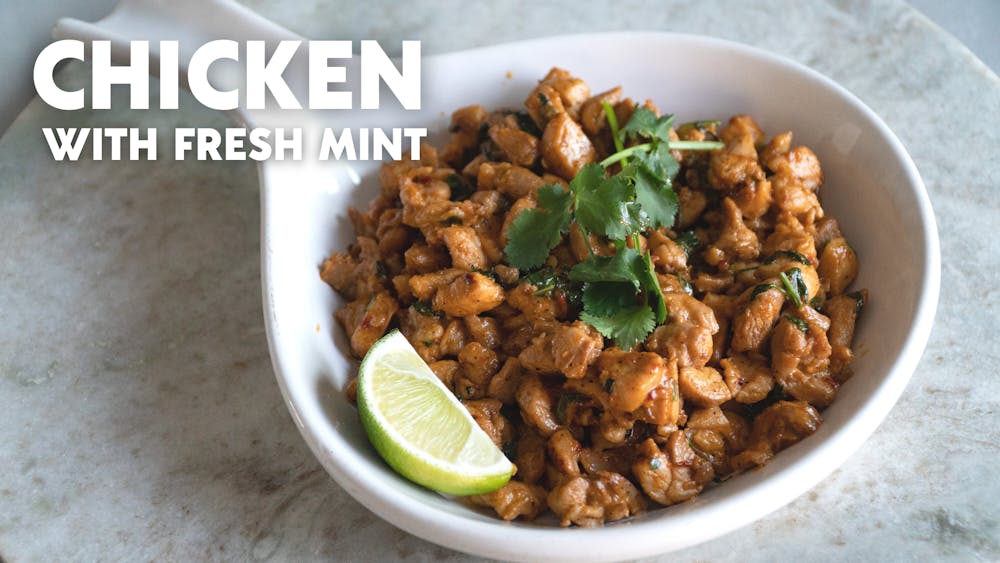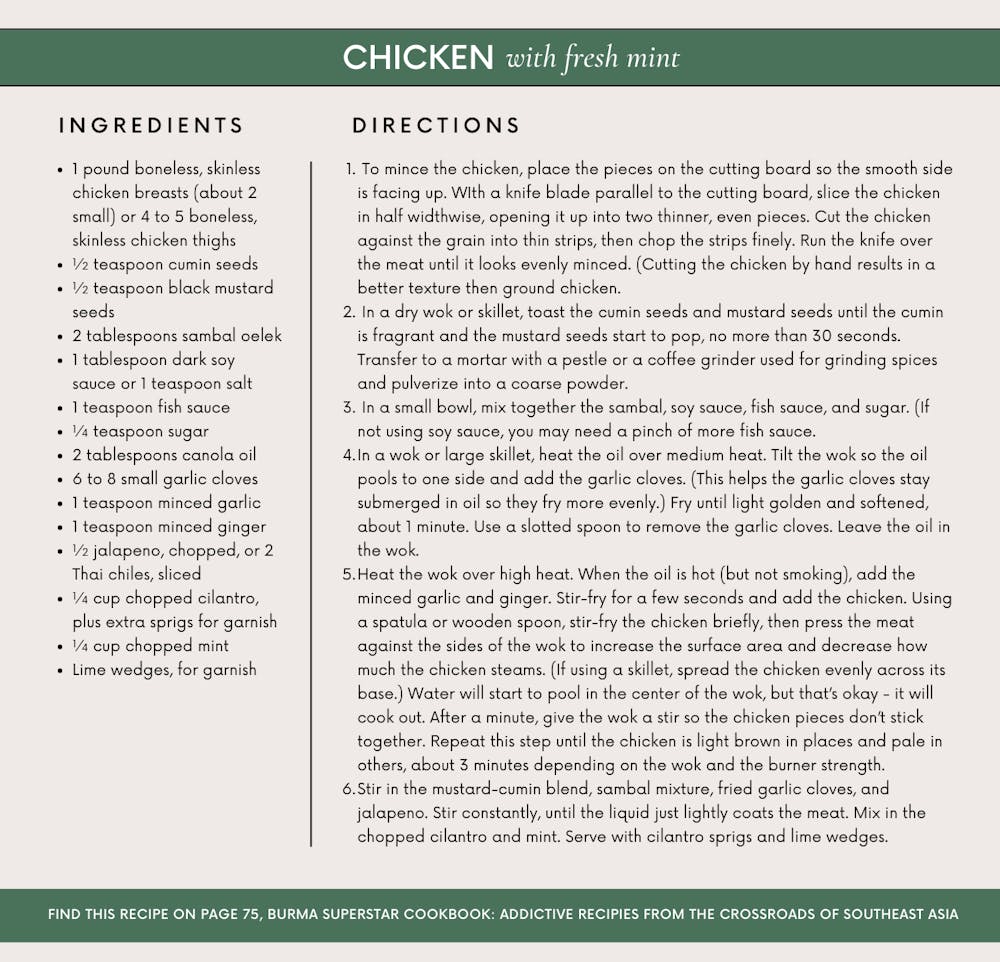 ---
For our next recipe, we'll be using fish sauce to make a classic Vietnamese condiment called, nuoc cham. It's a dipping sauce that is eaten with pretty much every Vietnamese dish from rice plates, spring rolls, eggrolls, and vermicelli bowls. It's incredibly simple to make and can be stored in an airtight container for up to three days. You can serve this with just about anything, but we love using this as a dipping sauce for fresh spring rolls.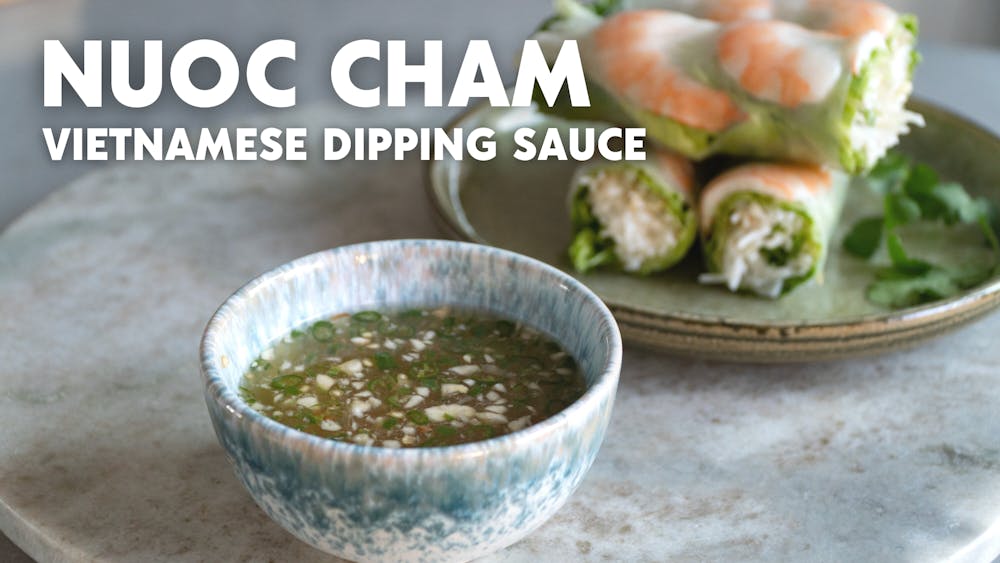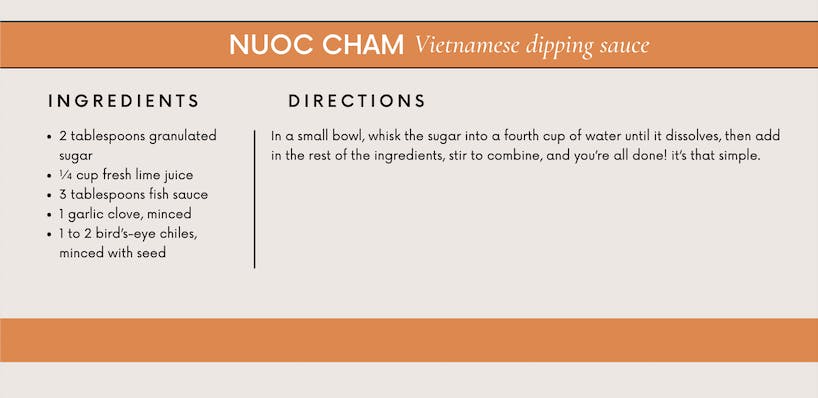 ---
For the final recipe, we want to show you that fish sauce can be used in non-Asian cooking, like pasta! Yep, that's right, this will be the secret ingredient for the perfect red sauce to enjoy with your favorite pasta or meatballs.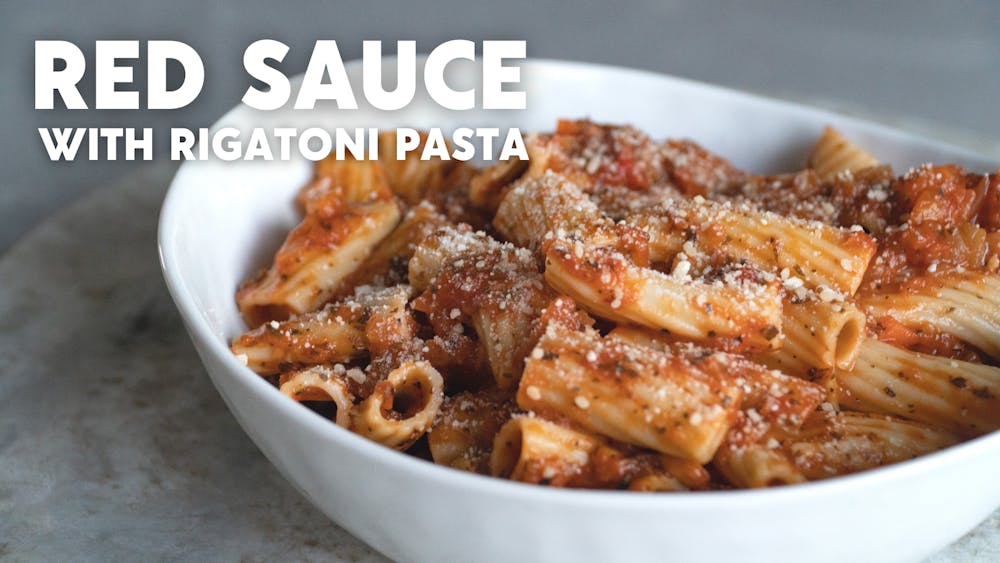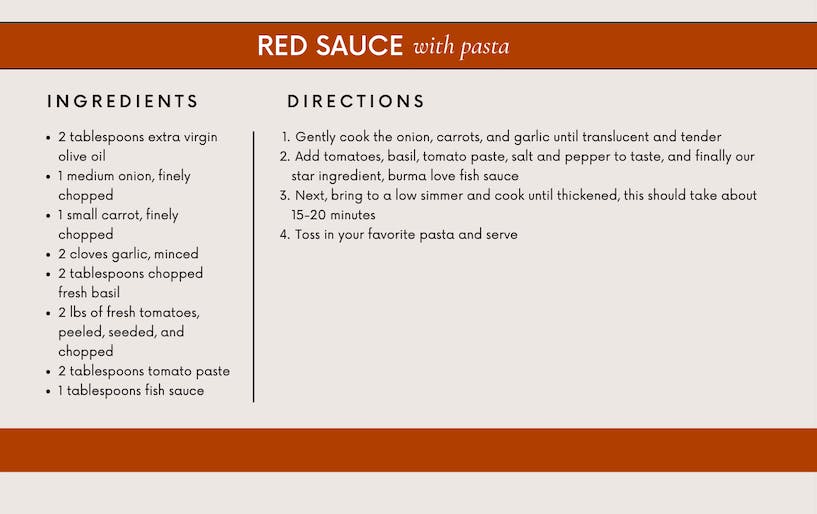 ---
All things considered, fish sauce is an extremely versatile ingredient that will take any dish to the next level. While it may seem intimidating at first, once you've become familiar with using fish sauce, it becomes a kitchen staple that you'll find yourself reaching for whenever you need to add a bit more depth to your dishes. We hope you learned something new or found some inspiration to incorporate this umami-bomb to your everyday cooking! Be sure to tag us on Instagram (@burmalove) if you use our fish sauce. Happy cooking!